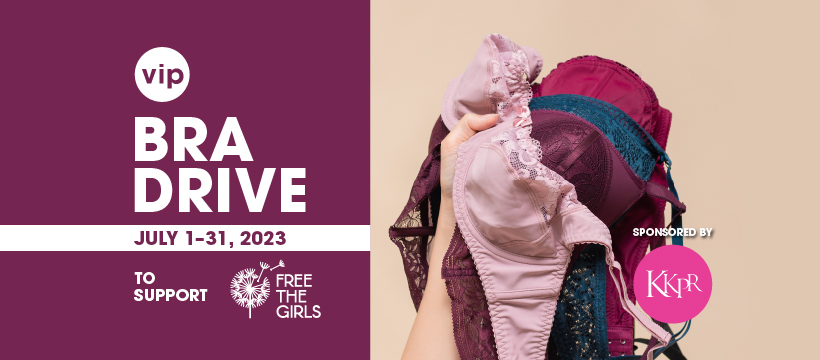 Free the Girls – Bra Drive
**VIP's Bra Drive to help formerly trafficked women launch and sustain their own business.**
This summer, VIP is raising awareness and generating support by the cupful. July brings with it our annual donation drive for the Free the Girls organization, an international non-profit dedicated to aiding survivors of human trafficking. Free the Girls helps survivors reintegrate into society by empowering them to start their own businesses and generate their own income.
Throughout July, VIP has collection boxes set up in six local libraries throughout Wayne and Pike Counties where you can go to donate new or gently used bras to this worthy cause. Bring your bras to the libraries listed below to take part in this global movement. All the donations will be shipped to programs in countries such as Mozambique, El Salvador, and Costa Rica, where survivors will be able to start their own businesses selling the bras to other women in need.
There are an estimated 40 million people worldwide living in captivity as trafficked individuals. They are isolated, often drugged, stolen from their homes and forced to work dangerous jobs for long hours and little or no pay. They are exploited physically, most often sexually, and are very often groomed from childhood or adolescence to do so. Anyone can be a victim of human trafficking. Those who have been victimized by other crimes, such as domestic violence or sexual assault, those who have a history of substance use disorder, and members of racial or ethnic minority groups including LGBTQIA+ communities are at a higher risk of victimization.
More information about Free the Girls is available online at FreeTheGirls.org.
DROP OFF LOCATIONS:
Milford Library | Dingmans Library | Honesdale Library | Newfoundland Library | Hamlin Library | Hawley Library
DONATION GUIDE:
Yes, please:
new or gently used
great quality
any style or size
good condition
bras or panties with tags
No Thanks:
worn out or damaged
stretched out
old and stained
poor quality
used panties
A big thank you to our bra drive sponsor, KKPR – the female driven digital marketing and communications agency designed to empower your brand.
Learn more at Freethegirls.org.
Share with friends!